5 Ways to Say "Bye-bye" to Cellulite Now to Prepare for Smooth Summer Skin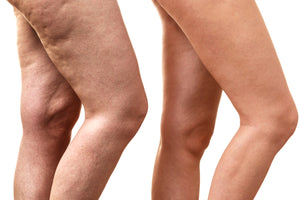 Is cellulite wrecking your self confidence? Cellulite is extremely common. So common, that 93 percent of women have it. You may not be bothered by dimpled thighs, butt or belly or you may want to get rid of it. Wondering what works? Here's some great ways to smooth out your cellulite before summer roles around:
Drink plenty of water - Cellulite shows up much more when skin becomes thin and weak from dehydration.
Eat healthy food on a regular basis - Fiber and whole grain foods help to remove toxins from your gut.
Include body brushing - Helps to eliminate toxins in the fat, leading to inflammation and more noticeable cellulite.
Exercise and move your body - At minimum, do some walking and remember, muscle is smooth and firm.
Use a cellulite-reducing cream formulated with caffeine!

Ultra Diminish: Up to 90% Dimpled Skin Reduction!
Ultra Diminish is a cellulite treatment cream that contains a premium proprietary blend of 7% pure caffeine, aloe vera, natural oils, plus vitamins A, D and E. Ultra Diminish effectively reduces cellulite as it nourishes the skin to look smoother and younger. Our paraben-free and fragrance-free formula absorbs easily into the skin, leaving it feeling soft and smooth. And, Ultra Diminish is dermatologist recommended for maximum results without surgery.
"I'm really happy with Ultra Diminish. I've been desperately looking for something that would lessen my cellulite and when I tried your product, I saw results almost immediately. For me this was like magic. And I must say, for the amount you get, it's very reasonably priced." ~ Customer
"I am 58 years old and started to get cellulite a couple of years ago on my legs. I didn't want to take any drastic measures to handle it and so I tried cream after cream and other home remedies – nothing was helping. I bought Ultra Diminish almost reluctantly because of all my failed attempts and after using it for approximately 5 days I saw a change – I couldn't believe it. Plus, it doesn't stop working after the first visual difference, it keeps working and my legs keep getting better and better looking". ~ Customer
Shop Ultra Essence Skincare products for hydrated, milky soft skin, renewed healing, even skin tone, fewer wrinkles and comments from everyone asking what you have done to look so young!
ABOUT THE AUTHOR 
Christa B. Kantner is an accomplished writer, researcher, graphic and web designer, marketing executive and entrepreneur. Christa has a wealth of information at her disposal to help people who are searching for a natural way to renew their skin and age beautifully. She does her best writing when she feels her readers need to become aware of the real facts instead of hype in the skin care industry.

The Udder Truth newsletter strives to raise awareness about the benefits of natural ingredients in skincare products. Christa writes about Ultra Essence Skin Care products because they contain a rich formula of natural ingredients that began over 100 years ago as a powerful healing balm for cow udders. Now, specially formulated for people, these udderly-fabulous skincare products transform problem skin to milky soft, age defying skin.