7 Romantic Ways to Surprise Your Man on Valentine's Day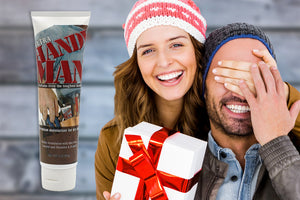 Men often get ignored on Valentine's Day since this holiday has evolved to focus more on women. Turn the tables and surprise your guy and have some fun!
Out of ideas? Here's some great ways to surprise your man and heat up your relationship:
Give him breakfast in bed (make it extra special) and have his favorite food or treats delivered.
Take him on a drive-in movie date and pack the car with a soft blanket, drinks and yummy finger food.
Surprise him with tickets to a game for the both of you.
Create a scavenger hunt - use candy to make paths to a candlelit dinner or a romantic bedroom scene with music and candles.
Make reservations for an adventure outing (hot-air balloon ride, canoeing, hiking, midnight beach picnic) or weekend getaway and take him there blindfolded.
Plan a private massage session and cute costume.
Give him surprise gifts and don't forget Ultra Handy Man!

Ultra Handy Man Skin Softener for Men Ultra Handy Man hydrates, repairs and renews skin cells. It also relieves problem skin conditions like eczema and psoriasis. Its NON-GREASY formula contains lanolin, vitamins A, D and E, grapefruit seed extract and aloe vera. Your man will love how it absorbs quickly and LASTS ALL DAY.
"I have a problem with eczema on my hands and Ultra Handy Man is truly the only cream that has given me relief. Because of the eczema, my hands were unsightly and now they look normal and this has given me a sense of confidence that is truly new to me. There's no way to express how much this product means to me. I would recommend this highly to anyone. ~ Bill Winters, St Paul, MN Before Ultra Handy Man, my feet would crack and burn at night. I suffer from Diabetes and your cream has really helped me. Thank you." ~ Paul Sheffield, Kailua, HI
Shop Ultra Essence Skincare products for hydrated, milky soft skin, renewed healing, even skin tone, fewer wrinkles and comments from everyone asking what you have done to look so young!
ABOUT THE AUTHOR 
Christa B. Kantner is an accomplished writer, researcher, graphic and web designer, marketing executive and entrepreneur. Christa has a wealth of information at her disposal to help people who are searching for a natural way to renew their skin and age beautifully. She does her best writing when she feels her readers need to become aware of the real facts instead of hype in the skin care industry.

The Udder Truth newsletter strives to raise awareness about the benefits of natural ingredients in skincare products. Christa writes about Ultra Essence Skin Care products because they contain a rich formula of natural ingredients that began over 100 years ago as a powerful healing balm for cow udders. Now, specially formulated for people, these udderly-fabulous skincare products transform problem skin to milky soft, age defying skin.