Are You Making Your Acne and Oily Skin Worse?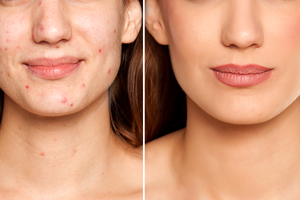 You keep getting acne. You keep using acne products that dry out your skin. You keep getting oily skin and acne. What's up with this crazy cycle?
People with acne-prone skin should avoid products formulated to treat oily skin as they strip the skin of its natural oils (needed for moisture and protection). When your skin senses that it is dry, it actually starts to produce more oil, which just makes the problem worse.
Use a cleanser that moisturizes and cleans at the same time (even if you have oily skin) and especially avoid soaps or products with drying ingredients such as sulfates, salicylic acid or benzoyl peroxide.
Dermatologist recommended, Ultra Facial Cleanse, nourishes, cleans and hydrates the skin to give you clean and healthy skin. Its non-greasy formula moisturizes and cleans at the same time. Ultra Facial Cleanse is non-comedogenic (won't clog pores) and contains safflower and coconut oils, both known for their anti-aging properties and to assist with skin conditions such as acne, psoriasis and eczema. It's also a wonderful makeup remover!
"My search has ended. I have reordered this Ultra Facial Cleanser three times and wouldn't consider trying any other cleanser. My face has never been so clean and so smooth." ~ Suzie Horton, Los Angeles, CA
"Removes my makeup quickly and easily. My face feels so refreshed after using it. This Ultra Facial Cleanser is the best I've ever used." ~ Sheila Berman, Greenwich, CT 
Shop Ultra Essence Skincare products for hydrated, milky soft skin, renewed healing, even skin tone, fewer wrinkles and comments from everyone asking what you have done to look so young!
ABOUT THE AUTHOR 
Christa B. Kantner is an accomplished writer, researcher, graphic and web designer, marketing executive and entrepreneur. Christa has a wealth of information at her disposal to help people who are searching for a natural way to renew their skin and age beautifully. She does her best writing when she feels her readers need to become aware of the real facts instead of hype in the skin care industry.

The Udder Truth newsletter strives to raise awareness about the benefits of natural ingredients in skincare products. Christa writes about Ultra Essence Skin Care products because they contain a rich formula of natural ingredients that began over 100 years ago as a powerful healing balm for cow udders. Now, specially formulated for people, these udderly-fabulous skincare products transform problem skin to milky soft, age defying skin.