How Men Can Repair Dry Hands and Cracked Heels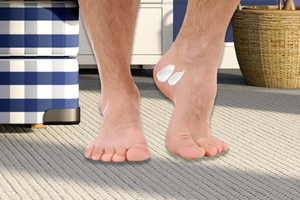 We use our hands and feet so much every day, we can't help but abuse them. Are you tired of trying to hide your dry, itchy, scaly hands and rough, cracked heels? Well, you don't have to hide your hands and feet any more. The answer is a natural moisturizer that began over 100 years ago as a powerful healing balm for cracked and painful cow udders and is now specially formulated for people.
Ultra Handy Man, skin softener for men, not only hydrates, repairs and renews skin cells, it also relieves problem skin conditions like eczema and psoriasis. Its NON-GREASY formula contains lanolin, vitamins A, D and E, grapefruit seed extract and aloe vera. Road-tested by construction workers, truck drivers, engineers, heavy equipment operators, landscapers and more, this high-performance, skin softener repairs tough, calloused skin and LASTS ALL DAY.
Unlike some other creams and lotions, Ultra Handy Man does not sit on top of your skin with an oily, greasy, sticky or slippery coating. You can get back to work right away because of its quick absorption.
"I'm a construction worker and my hands have been an embarrassment to me most of my life. I have tried so many creams to no avail and finally your Ultra Handy Man has actually changed my life. It lasts all day without reapplying. I put it on in the morning and that's it. Another important factor to me, being in construction, is this cream is not slippery or greasy and this is so vital to me when I'm on the job." ~ Ted Baker, Spokane, WA 
Shop Ultra Essence Skincare products for hydrated, milky soft skin, renewed healing, even skin tone, fewer wrinkles and comments from everyone asking what you have done to look so young!
ABOUT THE AUTHOR 
Christa B. Kantner is an accomplished writer, researcher, graphic and web designer, marketing executive and entrepreneur. Christa has a wealth of information at her disposal to help people who are searching for a natural way to renew their skin and age beautifully. She does her best writing when she feels her readers need to become aware of the real facts instead of hype in the skin care industry.

The Udder Truth newsletter strives to raise awareness about the benefits of natural ingredients in skincare products. Christa writes about Ultra Essence Skin Care products because they contain a rich formula of natural ingredients that began over 100 years ago as a powerful healing balm for cow udders. Now, specially formulated for people, these udderly-fabulous skincare products transform problem skin to milky soft, age defying skin.