The Amazing Anti-Wrinkle Serum You Should Be Thankful For This Thanksgiving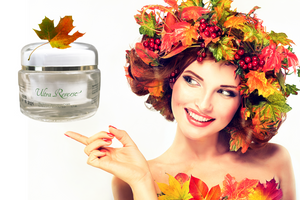 Like the Pilgrims, women throughout the ages had to accept their wrinkles as a right of passage. But now, you don't! Science and nature have combined to produce the best retinol restoration cream for beautiful, youthful skin and it's just what you have been looking for.
The buzz about Ultra Reverse is growing as it proves to be a popular alternative to Botox treatments and plastic surgery.
If you are looking for a natural serum, without dangerous chemicals or glue, that reduces fine lines and wrinkles, improves skin firmness and elasticity, and reduces psoriasis, rosacea, dark circles and age spots, Ultra Reverse is for you. It contains one of the highest amounts of retinol in over-the-counter products to renew and pump up aging skin cells. It is also richly formulated with CoQ10 and green tea extract to give you the most effective ingredients to defy your age. Finally, reverse the signs of aging and leave your skin looking younger and healthier.
"I was seriously thinking of getting Botox. I purchased Ultra Reverse and I couldn't believe how it worked! It diminished the lines and I actually forgot about the problem. It's amazing!" ~ Claudia McDaniel, Houston, TX
"I can't believe this (Ultra Reverse) is an over-the-counter anti-wrinkle cream. It has made a major difference in my skin. I love all the compliments I'm getting." ~ Cynthia Kaplan, Tampa, FL
Shop Ultra Essence Skincare products for hydrated, milky soft skin, renewed healing, even skin tone, fewer wrinkles and comments from everyone asking what you have done to look so young!
ABOUT THE AUTHOR 
Christa B. Kantner is an accomplished writer, researcher, graphic and web designer, marketing executive and entrepreneur. Christa has a wealth of information at her disposal to help people who are searching for a natural way to renew their skin and age beautifully. She does her best writing when she feels her readers need to become aware of the real facts instead of hype in the skin care industry.

The Udder Truth newsletter strives to raise awareness about the benefits of natural ingredients in skincare products. Christa writes about Ultra Essence Skin Care products because they contain a rich formula of natural ingredients that began over 100 years ago as a powerful healing balm for cow udders. Now, specially formulated for people, these udderly-fabulous skincare products transform problem skin to milky soft, age defying skin.