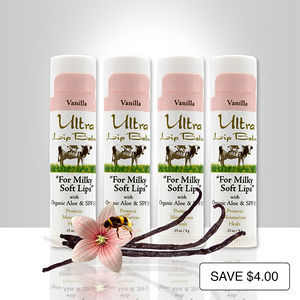 YOU SAVE $4.00
Ultra Lip Balm goes on like velvet for milky soft lips. Formulated with aloe, beeswax and sweet almond oil, Ultra Lip Balm restores dry, cracked lips to soft and supple. And, all of our healing balms contain SPF 15 sunscreen to protect your lips from sun damage. This 4-pack contains 4 vanilla-flavored lip balms. Choose your favorite flavor. Each .15 oz. tube of Ultra Lip Balm is made in the USA at our cruelty-free, medical grade FDA registered manufacturing facility.
ABOUT ULTRA LIP BALM
Glides on like velvet - never drags or pulls at tender lips

Made with aloe vera and sweet almond oil
SPF 15 protects your lips from the sun's damaging effects
Keeps lips soft and supple
One of the main ingredients in our lip balms is aloe oil, which is known for its ability to promote skin health and assist in keeping your lips soft and supple.
We've also added Candelilla wax, derived from the Candelilla plant. Candelilla wax locks in moisture and helps protect skin from the elements. It's also what gives our lip balm that wonderful "glide" consistency.
Almond oil is added to our lip balms to protect your lips from UV damage, keeping them hydrated and moisturized.
CUSTOMER SATISFACTION GUARANTEED: We want to be sure you are completely satisfied with the results of our products. If for some reason you're not happy, we offer a full 90-day, no questions asked, money-back guarantee!
"I think your lip balm should be called a healing balm because they actually heal my lips when the corners of my mouth get severely cracked and become painful. I apply this wonderful lip balm to the area and it handles it. I keep it in my purse all year round, I'm never without it." ~ Charlotte Everley, Burlington, VT


"I just love, love, love your lip balms! The combination of your Aloe and SPF 15 not only protects my lips in the sun but from the cold as well." ~ Betty Childs, Omaha, NE
DIRECTIONS

Apply Ultra Lip Balm to lips to moisturize and soften as needed.
We only ship products to addresses in the United States.