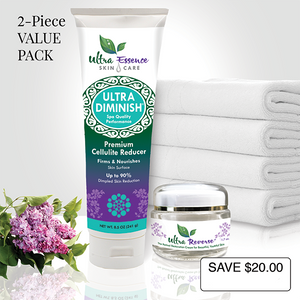 YOU SAVE $20.00 plus FREE SHIPPING! Get great value for your favorite Ultra Essence skincare products with our Value Pack: Ultra Diminish and Ultra Reverse for gorgeous, ageless, healthy skin. 
Rest assured, our newly-labeled products contain all of our original ingredients ...
WHAT'S INCLUDED 
Ultra Reverse 1.7 oz. Jar 

- Best anti-aging, anti-wrinkle retinol cream for face and hands. Ultra Reverse is richly formulated with CoQ10, green tea extract and retinol to reduce the appearance of fine lines and wrinkles, improve skin firmness and elasticity, and reduce psoriasis, rosacea, dark circles and age spots.

Ultra Diminish 8.5 oz. Tube - Best natural, anti-cellulite treatment cream that contains a premium proprietary blend of 7% pure caffeine, aloe vera, natural oils, plus vitamins A, D and E. Effectively reduces cellulite as it nourishes the skin to look younger. Our paraben-free and fragrance-free formula absorbs easily into the skin, leaving it feeling soft and smooth.


"This is an awesome cream (Ultra Reverse). It rejuvenates the skin, bringing it color and shine, reducing the appearance of wrinkles. It's amazing that this is an over-the-counter product. I've paid a lot more for prescription creams that weren't nearly as effective." ~ Ronni K.


"Have used this product (Ultra Reverse) for years! It does not irritate your skin like many retinols. Very cost friendly for a fantastic product. I would recommend this to youthful skin plus aging skin. The sooner the better in my book! "~ Chelsea
"I was using …(popular cellulite creams)… & neither of them did anything. Your Ultra Diminish, I swear, works wonders and I get results very fast." ~ Sheila Rosenberg, San Francisco, CA


"I'm really happy with Ultra Diminish. I've been desperately looking for something that would lessen my cellulite and when I tried your product, I saw results almost immediately. For me this was like magic. And I must say, for the amount you get, it's very reasonably priced."


All Ultra Essence products are made in the USA at our cruelty-free, medical grade FDA registered manufacturing facility.